The KUCB Newsroom provides newscasts Monday through Thursday at noon and 5 PM on KUCB Radio. You can find many of our local news stories here.
Unalaska's Only Salmon Weir Remains In Funding Limbo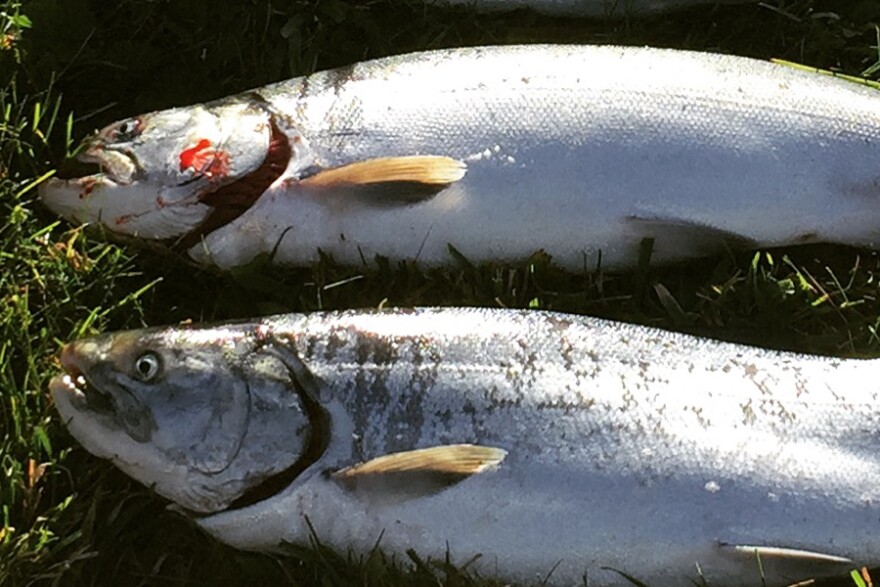 With grant money drying up, the state wants Unalaska to help fund the salmon weir at McLees Lake.
Scientists have used the weir to monitor sockeye for the past 17 years. But now, the Alaska Department of Fish and Game has no way to pay for it.
On Tuesday, Mayor Frank Kelty told the City Council that the department is asking Unalaska to cover some of the $80,000 in operating costs.
While Kelty said the Wislow weir isn't the city's responsibility, he's worried that losing run data will force biologists to limit local fishermen at one of the island's most popular subsistence spots.
"If they don't have a survey, they're going to be very conservative about how close they let people get [to the mouth of the stream] and how much fish people can take," said Kelty.
That didn't persuade Councilor Shari Coleman. She said the fishing at Wislow, way out in Reese Bay, will be fine without a year of detailed data collection.
"I'm against this," said Coleman. "If we're going to throw money at fisheries, let's look at our own tributaries."
Unalaska resident Suzi Golodoff agreed. During public comments, she said that she's more concerned about the health of salmon runs along the road system.
"I wish that if we had money for streams, it'd be for Morris Cove, Summer Bay, and the local Iliuliuk Creek here that's really hurting with the reds," said Golodoff.
The council directed city officials to take a look at the budget and determine if there's any money to spare for salmon monitoring.
If there is, Councilor Roger Rowland said he'll support it, at least for this summer.
"While I'm interested in funding this, I would not be doing it with the assumption that the state would eventually step in," said Rowland. "I'd be doing it with the assumption that we'd be doing it for our people."
The council is also passing on the state's funding request to the Ounalashka Corporation, the Qawalangin Tribe, and the Aleutian Pribilof Islands Community Development Association.
If there's not enough money to operate the weir, the state will still run aerial surveys.