The KUCB Newsroom provides newscasts Monday through Thursday at noon and 5 PM on KUCB Radio. You can find many of our local news stories here.
McLees Lake May Lose Longtime Weir, Putting Unalaska's Salmon Data At Risk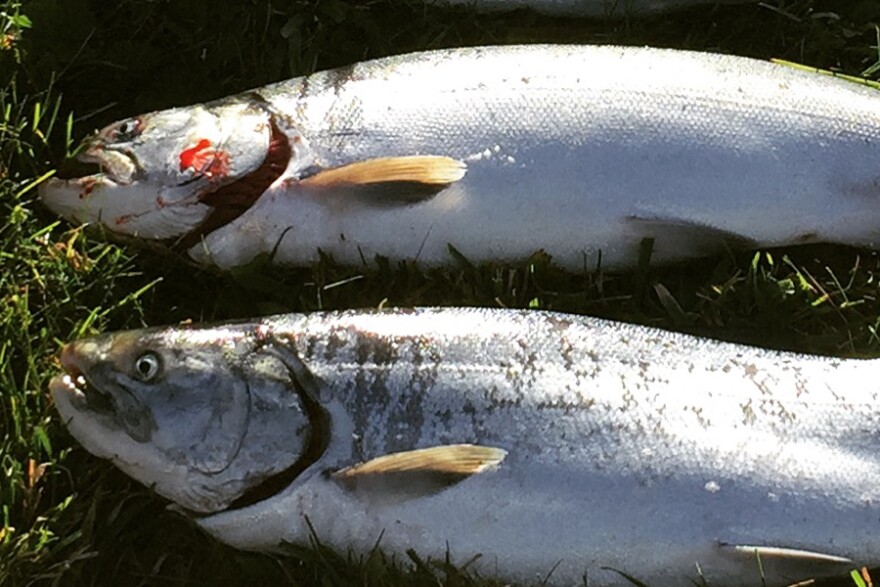 Scientists have monitored the salmon run at McLees Lake for 17 years.
But now, they're in danger of losing the weir that helps them count sockeye at one of Unalaska's most popular spots for subsistence fishing.
"We are at the end of our funding cycle with the Alaska Sustainable Salmon Fund," said Biologist Lisa Fox of the Alaska Department of Fish and Game. "We don't know yet if we have funding for that weir this upcoming season."
Earlier this month, Fox told Unalaska's Fish and Game Advisory Committee that operating the weir at Wislow costs about $70,000 per season.
The department has requested federal funding from the Office of Subsistence Management to keep the program afloat. But if the state doesn't get it, Fox said biologists will have to fall back on occasional aerial surveys.
The advisory committee doesn't want that to happen. Member Abi Woodbridge said it's critical that scientists keep a close eye on one of the island's only documented salmon streams.
"Is there any provision where the city, the Unalaska Native Fishermen's Association (UNFA), the Qawalangin tribe, the Ounalashka Corporation, or the community can help support the cost and make sure we don't have a break in the data?" asked Woodbridge.
According to Fox, probably not. She said the state doesn't accept donations. But she is optimistic about a new monitoring program starting this summer.
UNFA has announced plans to study salmon at Iliuliuk Creek and Summer Bay by aerial drone.
"I think that'll be a really good step in the right direction for getting accurate counts for sockeye and probably coho too," said Fox.
Unalaskan Andy Dietrick will operate the drone, as owner of Aleutian Aerial LLC. Once the program is up and running, he said UNFA and the advisory committee can look at expanding to McLees Lake.
"We'll give it a good go this summer, give it a test, and see where it goes," said Dietrick.
Meanwhile, biologists said the sockeye run at Wislow was below average this year, with 13,195 reds passing through the weir. That meets the escapement goal of 10,000 fish, but falls short of the stream's 31,000 average.