The KUCB Newsroom provides newscasts Monday through Thursday at noon and 5 PM on KUCB Radio. You can find many of our local news stories here.
McLees Lake Hits Target for Sockeye Escapement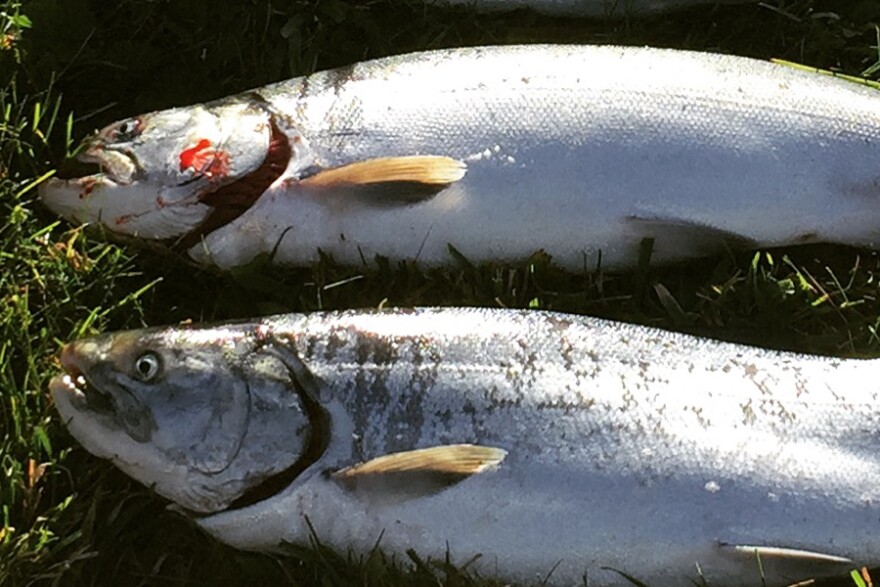 Almost a thousand sockeye salmon are swimming through the weir at McLees Lake each day — enough that the Alaska Department of Fish and Game says the area has met its goal for minimum escapement.
That's good news, because the run started slowly.
Lisa Fox is the area management biologist for the South Alaska Peninsula and Aleutian Islands. She said just five reds passed through on the first day of the run in early June.
"The escapement started off pretty slow," she said. "Then it just ramped up and has continued to ramp up. It's over 25,00 sockeye right now, which is well above the lower goal of 10,000 fish."
Fox said the department doesn't make a formal forecast for McLees Lake, but she expects the solid run to continue and reach 30 to 35,000 fish this summer. It's even possible for the area to hit its higher target for escapement: 60,000 sockeye.
"McLees can be kind of surprising," said Fox. "That system can vary really widely from year to year. There have been years where it didn't make that 10,000 minimum escapement, and there have been years where there have been 100,000 fish in there."
Fox said the run varies so much because there's no commercial fishing in the area and because of natural changes in the environment.
This season, she said there will be plenty of fish as the run reaches its peak in the next few weeks. That's why Fish and Game has opened subsistence salmon fishing indefinitely in the waters of Reese Bay, up to the McLees Lake stream outlet.
"It's pretty much open for fishing anywhere in there," she said. "Since the system is doing well and the run is doing good, it's pretty much right up to where the river hits the beach."