The KUCB Newsroom provides newscasts Monday through Thursday at noon and 5 PM on KUCB Radio. You can find many of our local news stories here.
Cold Bay Community Gets Inside Look At Massive Joint Military Training
For the first two weeks of May, the tiny Aleutian community of Cold Bay hosted hundreds of military service members who gathered to assess equipment and tactics in the unique Aleutian environment.
The town, which normally has a population of roughly 40 people, was one of several Alaska locations where members from four branches of the armed services worked together as part of a massive biennial military exercise called Northern Edge 2021 for a joint training.
The exercises included a wide-range of collaborative trainings, from crisis response, to refueling aircrafts, to experimenting with new cyber electronic warfare tactics and maneuvering and firing long range precision missile systems known as High Mobility Artillery Rocket Systems or HIMARS.
Captain Stephanie Leguizamon is the communications, strategy and operations officer for the 15th Marine Expeditionary Unit (MEU). She said the exercise is meant to provide high-end realistic warfighter training, which can be hard to achieve in most places.
"In addition to advancing our interoperability between the services, which gives us broader reach, we're also experimenting and not testing but confirming different tactics, different techniques, different procedures, for conducting each of the operations," Leguizamon said.
Cold Bay was chosen for its logistical qualities like its airfield and landing pad, she said. But the Aleutian climate also provides a distinct environment that the majority of the personnel on the USS Makin Islands – the largest of the three ships that comprise the 15th MEU – is not used to, as they've spent a big chunk of their deployment in the Middle East, according to Leguizamon.
Marine Captain Nathaniel Keegan normally operates out of an air station in Yuma, Arizona and said flying in the cold Aleutian weather and mountainous terrain has been the polar opposite of what he's used to.
"As a pilot, putting on all my gear and getting into an aircraft when it's 120 degrees, that kind of limits you to a certain level of experiences that you're used to," Keegan said. "And being out here, I'm no longer in the jet trying to get my air conditioning on soon as possible so I don't pass out. It's different here, where I'm actually freezing and hoping that the heating system works."
Like many of his colleagues, Keegan said this was a once in a lifetime experience and a great chance to collaborate with his sister services.
Lieutenant Colonel Joseph DiMambro is the commanding officer for air combat in the 15th MEU. He said the large scale of the joint integration of the armed services alongside the austere Aleutian environment made this exercise extra unique.
"The big thing about this is just trying to get on the same page with each other," DiMambro said. "We don't get to do this very often, especially in an environment like this. Most of us are from Southern California or Arizona so coming up to the cold weather is some really good training for us. It's a unique opportunity that we get to do, especially doing it from a ship."
Hap Kremer is the airport manager and mayor of Cold Bay and for the first half of May, he was also host to Marine service members, as they practiced tactics for working with other military branches in various war-like situations.
He said the town hosted more than 200 military personnel during the exercise, which provided a unique opportunity for the firefighters and airport crew in Cold Bay to get some training as well.
"We took advantage of the situation, having other firefighters here in our firehouse," Kremer said. "We trained every day, rolling hoses, responding to simulated aircraft crashes – actually doing standby for the planes that were coming in."
During their stay, military participants were housed at the local firehouse, in large tents and mainly in the city's school, which Kremer said has been shut down for several years. All of the personnel who came into Cold Bay had been vaccinated against COVID-19, according to Leguizamon.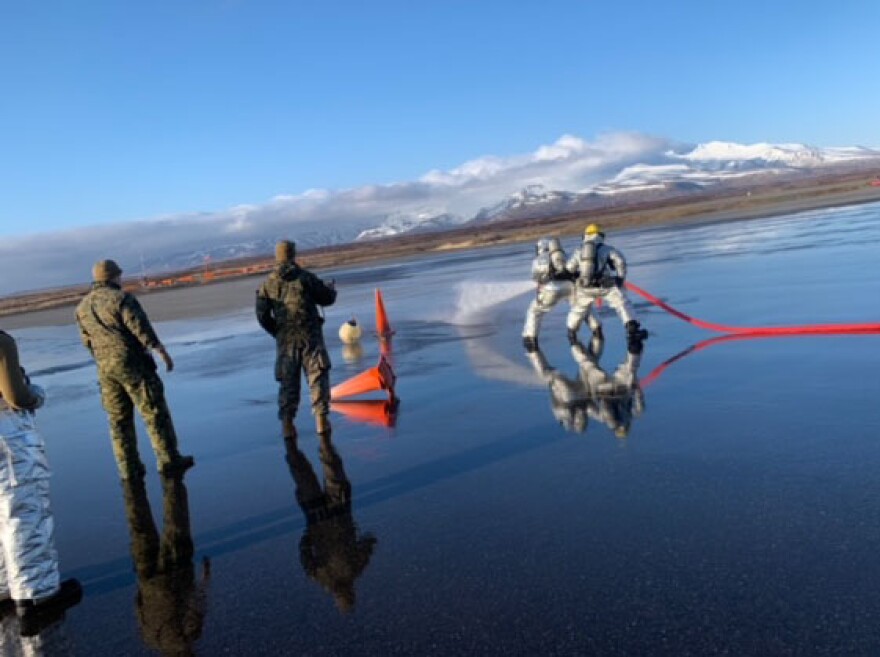 For the most part, Kremer said the service members kept to themselves and didn't rely heavily on the city for much. But about halfway through their training, they held an open house and invited Cold Bay community members to check out some of their equipment and learn more about what exactly they were up to.
Despite windy, cold typical Aleutian weather, Kremer said about 90% of the community came out for the event.
Lieutenant Colonel Christopher Mays is the logistics combat element commanding officer and oversaw the Northern Edge exercises in Cold Bay. He said the open house was a great chance for the military personnel to chat with some of the Cold Bay residents, who they hadn't interacted with much over the two-week training.
"Basically, we just set some of the equipment out on the ramp and then invited the local folks to come over and see their tax dollars at work and meet some of the Marines and sailors and the airmen who are out there," Mays said. "It provided an opportunity for them to really get a sense of what we're doing here."
The Marines displayed equipment like helicopters and large rocket-launching systems and also brought in military dogs for bomb-detection demonstrations.
The military didn't actually do any firing of missiles in Cold Bay, which acted more like a hub for communication and coordination. The live fires took place in Fort Greely.
Kremer says it was an honor to host the service members and generally, a great opportunity for the community – which relies on the airport as a main economic driver – to get some extra training on the runway.
The exercise wrapped up May 13. Lieutenant Colonel DiMambro said the trainings will be analyzed and discussed and that data will later be used to help build the next Northern Edge event.