The KUCB Newsroom provides newscasts Monday through Thursday at noon and 5 PM on KUCB Radio. You can find many of our local news stories here.
Ravn Alaska Still Transitioning After PenAir Purchase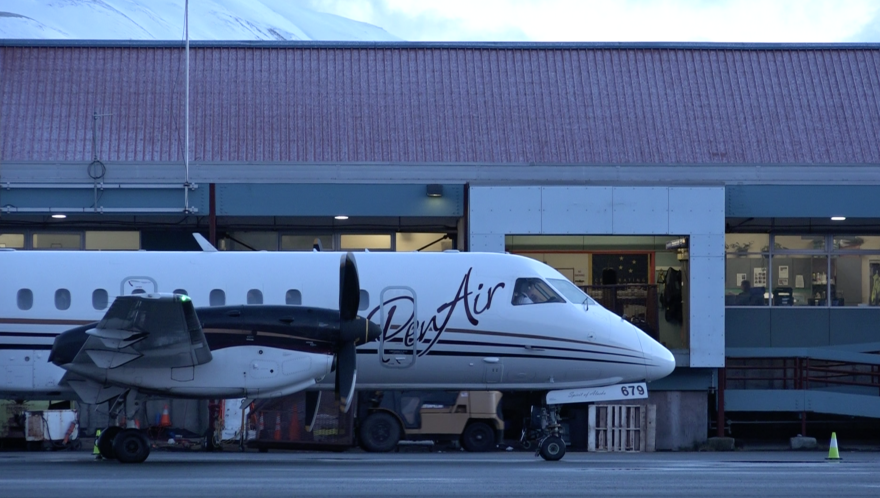 In 2018, Ravn Air Group purchased PenAir — the carrier that's long served as the primary connection between Anchorage and the Aleutian-Pribilof region.
For months following the buy-out, Ravn Alaska declined and did not respond to interview requests.

But this month, KUCB's Zoë Sobel finally spoke with Chief Commercial Officer Derek Shanks to learn why the carrier wants to expand in Southwest.

TRANSCRIPT
SHANKS: Well, I think the most important thing was we wanted to ensure that Alaska had a strong regional airline. The strength of PenAir is obviously down in the Aleutians and Bristol Bay area, so they had a very good synergy with us from a route perspective.
KUCB: And going back a little bit to the purchase of PenAir, what does that mean for workers in Anchorage or workers locally in Unalaska?
SHANKS: I mean, we're now employing over 1000 employees up in Alaska. I think 85 percent are local Alaskans, which is absolutely important, and we've managed to maintain the majority of jobs at PenAir. But the most important thing moving forward, as I mentioned earlier, is that we are now a stronger regional carrier. That offers more opportunities for growth within the Ravn Air Group, but also a little bit more stability being a larger regional carrier.
KUCB: Are you saying that at some point, everything's going to change over to Ravn branding and we're going to have to say goodbye to the PenAir brand?
SHANKS: Well, eventually we will have to look at if we're going to merge the two airlines into one and [have] one operating certificate, which all the major airlines have done. American has done that with US Airways, United, etc., etc. So that's common in terms of putting it onto one certificate. That's when you get the benefits from the synergies of the two airlines. But that's at least 12-18 months away. Eventually we will. We will be one airline. We'll either use one of the existing names or we could well come up with a new one.
KUCB: Switching gears a little bit, what aircraft are flying to Unalaska right now and how many does Ravn/PenAir own?
SHANKS: It's still going to be the Saab 2000, and we are going to have five of those in the fleet.
KUCB: Since the Saab 2000s have been put in use by PenAir, there seems to have been a lot of trouble with them — be it maintenance or engine failures or general reliability. It seems like anytime people are going through and trying to fly out, there are always mechanical delays and mechanical cancellations. What does Ravn plan to do about that?
SHANKS: We've looked at the statistics that we have to compare year on year, and there is no difference. What has happened recently — both on PenAir and Ravn — is that we do have some really bad weather. There have been weather cancellations. One of the advantages we've now got — and we've just done this down in Cold Bay and Sand Point. We've also done it in Dillingham and King Salmon — is when we haven't had one of the aircraft available, whether its on PenAir or Ravn, we're substituting within the group. The real benefit of the Ravn Air Group now is when there are weather conditions or mechanical conditions where we've had to cancel flights, we are substituting flights with either a Ravn flight or a PenAir flight to ensure that we are servicing those communities. But on a comparison to last year, there really hasn't been that much difference.
KUCB: Are those substitutions something that could happen for a place like Unalaska too?
SHANKS: Unalaska, no. We will only be flying to Dutch Harbor with the Saab 2000. But what it does allow us to do is pull off the Saab 2000 from another flight and substitute it with a Dash 8. So from an operational perspective, that's going to make us a lot more efficient and allow us to take advantage of the peak season. We'll put the 45-seater on where we know there's big demand, and when there's less demand we'll put on the smaller Dash 8 with either the 37 or 29 seats. The overall performance of the airline will improve. That'll make us ensure that we are profitable and continue to be so.
KUCB: Why can't you fly the Dash 8 to Unalaska?
SHANKS: Well, that's not our route. That's an Alaska Airlines route. So we are not flying to Dutch Harbor on a scheduled basis [with the Dash 8].
KUCB: I'm curious: Are there going to be changes to the flights to the Pribilof Islands? And Unalaska's flight schedule and the cost of flights?
SHANKS: As far as the cost is concerned, we continue within the Ravn air group to ensure that we are providing customers with the best value flights that we possibly can. We did that when we started flying to Dillingham and King Salmon last year and also to our shorter routes — Kenai, Homer, and Valdez. We've introduced lower fares wherever we can and also have our weekly Ravn deals. We introduced the new PenAir deals as well, which will be going out every week. We'll be offering our best value fares through that and all you need to do is sign up on penair.com or flyravn.com. As far as the flight to St. Paul, there will be some changes there. We have, for some time now, been looking to get our aircraft on Ravn Alaska — the Dash 8 — certified for over-water flying. So we are currently doing that, and we are looking to put the Dash 8 on the flight to St. Paul as soon as that certification is complete. We will be flying out to St. Paul three times a week.
KUCB: Why did flights start departing from the A gates in Ted Stevens [Anchorage International Airport]? What happened to the L1 gates? Will Ravn or PenAir flights ever return to L1?
SHANKS: One of the key areas was to get the airport teams together as soon as possible. We had the space at the A gates, so we moved those departures down there. It's far more efficient for the airline and the customers. And we don't know whether we will ever return to the L gates. At this point, we have no plan.