The KUCB Newsroom provides newscasts Monday through Thursday at noon and 5 PM on KUCB Radio. You can find many of our local news stories here.
PenAir, Trustee Promise No Flight Interruptions During Sale Of Airline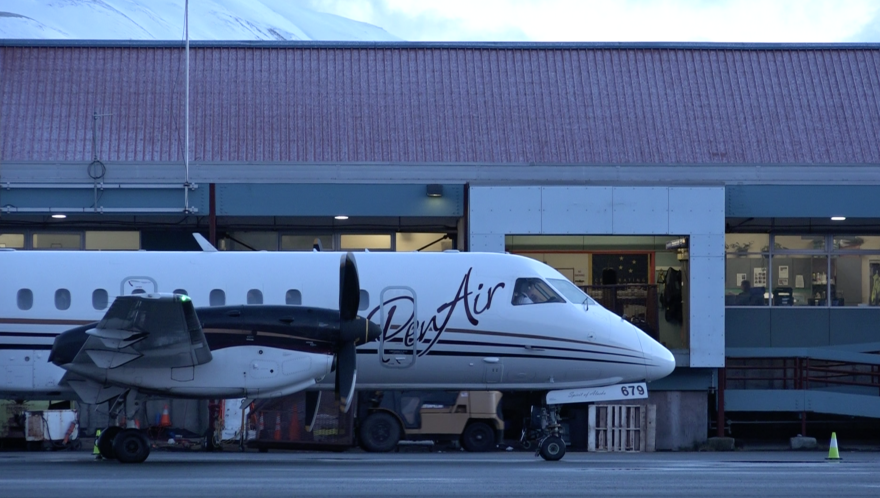 One of southwest Alaska's largest airlines will soon be up for sale.
A federal judge has ordered PenAir be auctioned off this October — more than a year after the company filed for bankruptcy protection.
The carrier is promising residents of the Aleutian and Pribilof Islands that their only connection to Anchorage won't just vanish.
The Seybert family founded Alaska-grown PenAir in 1955, and they still own it today.
The company includes 430 employees, 10 airplanes, and eight routes across Bristol Bay, the Alaska Peninsula, and the Aleutian chain.
Last August, the airline filed for Chapter 11 bankruptcy with debts worth $15 million. It's incurred another $5 million since then to stay operating.
But CEO Danny Seybert doesn't seem too concerned. He's issued this message to customers.
"They should know that I'm still going to be here," he said. "I'm not leaving! I've been flying in southwest Alaska for 45 years. I've got another 45 years left in me."
That promise comes after a bankruptcy court judge scheduled an auction this fall, when the company will be sold to the most competitive bidder.
Seybert said flights will continue normally during the "363" sale, governed by section 363 of the federal bankruptcy code.
"It's the sale of the company's assets as an entire operating entity," he said.
That means the top bidder will take control of everything PenAir owns, leases, or won by contract — minus its debts.
"All the employees. All the aircraft. All the routes," said Seybert. "The entire business that we're doing today will still be the same business that operates the day after the sale."
At least, it'll still be that same business until a new owner decides to change things.
That's according to Jerry McHale, an accountant from Florida who's been court-appointed to oversee the sale as an independent Chapter 11 trustee.
"My role is to attempt to stabilize the situation," he said. "I don't want somebody to buy the company on Friday and shut down the routes on Monday."
After the sale is complete, McHale said PenAir's new owner will be free to add or delete routes as they see fit, but any bidder who wants to be truly competitive will to have submit a plan for continued air service in the region.
McHale said he already has plenty of bidders lined up, all of whom fit that description.
"Even today, I've had two come out the woodwork," he said. "I am unaware of anyone wanting to stop routes currently."
That said, PenAir — under its current management — flies a few routes that are guaranteed by Essential Air Service (EAS), a federal program that subsidizes companies that serve small communities.
McHale said he can't be sure a new owner will do the same.
"I believe it's McGrath and St. Paul that are currently being operated under the EAS program. Those [routes] are out for bid. I don't know that a new buyer would want to bid on those. I just don't know."
While the fates of those routes play out in a separate bidding process managed by the U.S. Department of Transportation, McHale said he's doing everything he can to get a responsible buyer at the head of PenAir.
Bidders have to submit audited financial statements and letters of credit to prove their upfront ability to buy the airline. They also have to demonstrate how'll they cover ongoing costs for aircraft maintenance, insurance, and storage — on top of convincing the Federal Aviation Administration that they have a credible safety program.
With that criteria, McHale said there will only be so many competitive bidders. As for rumors that the Seybert family hopes to buy out and relaunch their own company, he said there's no reason they can't try.
"If Danny and his group want to put in a bid, they're welcome to it," said McHale. "But they're no different than — I'll pick some names out — Alaska Airlines or Wexford or Ravn. Anybody."
Already this year, Ravn Alaska has expanded to Dillingham and King Salmon, two communities previously connected to Anchorage by PenAir alone. In January, the carrier also said it's considering a new route to Unalaska.
Meanwhile, Wexford Capital is a company that has issued loans to PenAir during the bankruptcy, and Alaska Airlines used to compete with PenAir in the Unalaska market before they agreed to partner on the current route.
Seybert declined to comment on the potential competition for his family's business. He also declined to say whether he'll make an offer himself.
"I'm not going to tell you yet," he said. "But watch the bids carefully."
The auction is slated for the first or second week of October. Both PenAir officials and McHale said it won't affect holiday travel or the busy winter fishing season.