The KUCB Newsroom provides newscasts every weekday at noon and 5 PM on KUCB Radio. You can find many of our local news stories here.
Unalaska's Basketball Teams Head To Delta Junction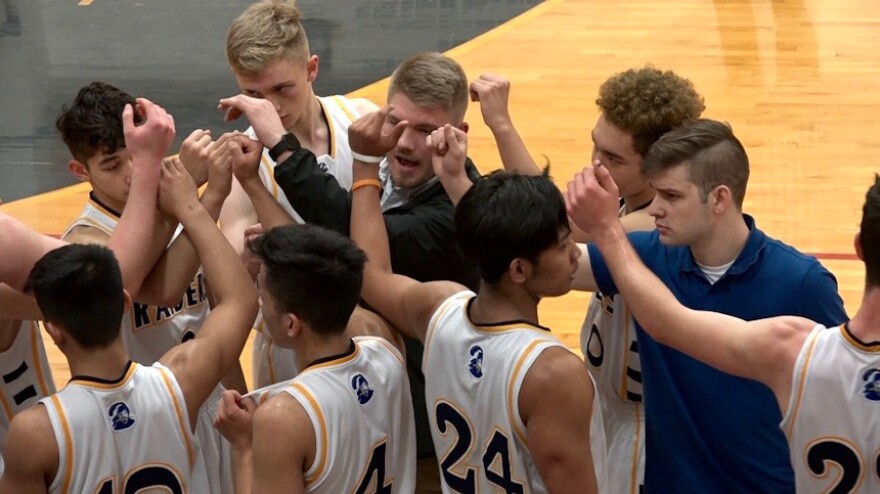 The Unalaska Raiders are heading north for their next basketball games.
Thursday morning both teams will face off against Kotzebue in Delta Junction.
The boys' are coming off two wins at home against King Cove. Coach Riley Spetz says this week their focus will be on rebounding.
"We have some good rebounders and we just have to get the whole group to turn their notches up a bit and really stretch the attitude more than it is the effort and almost get mean and snatch the ball out of the air," Spetz said. "Rebounding is going to be an emphasis as well as playing really hard team defense."
Spetz expects Thursday's game will look different than the match-up with King Cove. He says Kotzebue will be a bigger team with more depth.
"It's definitely going to be a stretch," he said. "We're going to see what we're made of in this tournament and we'll see where we gotta go from here."
In addition to the four returning travelers, half of the boys' team is traveling for the first time.
"Our newcomers to the traveling squad this year are Adam Nguyen, a junior. I had Adam the last two years. A real hard worker," Spetz said. "Torrence Lee is a sophomore and kind of an up and comer. He hit a growth spurt in the last year and he's doing some good things. We like where he's at and were hoping he's going to keep getting better. John Vienna's a senior. Been around the program for a couple of years and this is kind of the first time he's cracked a travel roster. [He's a] real athletic kid. Lastly, there's Liam Homka, a junior. He does a lot of things pretty well and he's gonna have to be the dirty guy for us. The guy who goes in there gets garbage buckets, gets rebounds, and plays good defense."
The girls' have a newcomer of their own adding freshman Vy Nguyen to the mix.
Last year, the team faced Kotzebue but Coach Casey Clasius says it's hard to know what to expect from just a box score.
"This year we don't know what kind of team they have," Clasius said. "We know that they're down a little bit according to their scores. It's just so hard. They could have had somebody hurt, they could have had somebody not playing well, or they just picked a bad day to play. We played them last year and I told the girls that if they work hard, they could have a good chance of being there right there till the end."
After opening the season with two losses to King Cove, Clasius says the teams focus is on passing.
"Against King Cove the girls' wanted to go for that great pass and they had to do it under a lot of pressure," he said. "When someone's guarding you that close, how about just passing to the open person? So that's what we're going to look at: making sure we play good defense against our opponent, passing to that open person, and making sure we're all working together and being a team."
KUCB 89.7 FM will carry live coverage of the Delta Dean Cummings tournament beginning at 9 A.M. Thursday with the girls'. The boys' take the court at 10:30 A.M.