The KUCB Newsroom provides newscasts Monday through Thursday at noon and 5 PM on KUCB Radio. You can find many of our local news stories here.
Despite Reduced Hours, U.S. Postal Service Says It's Not Closing Unalaska's Post Office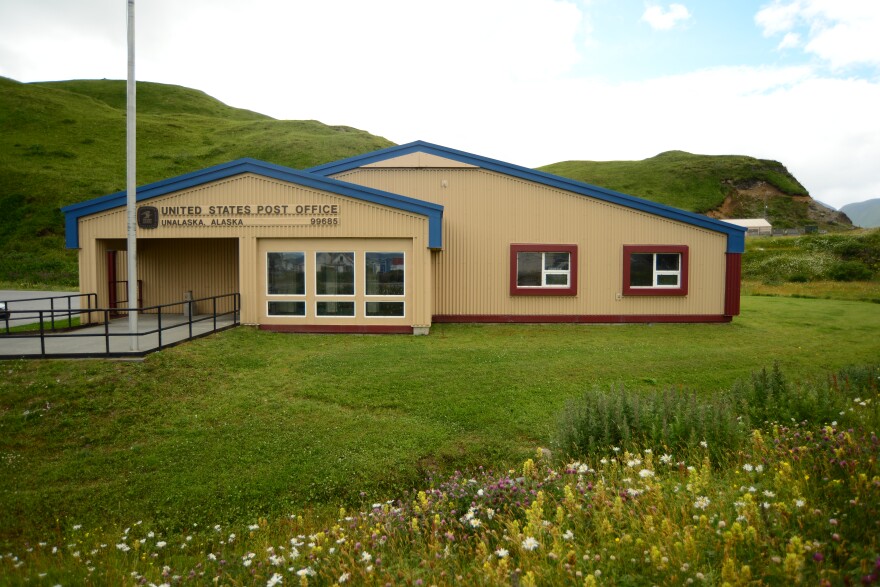 The Unalaska post office has had reduced service for months. But officials say that's due to staffing shortages — not an attempt to shutter the branch
"No, there is nothing in the works for closing a post office in Unalaska/Dutch Harbor," said Dawn Peppinger, a marketing manager for the U.S. Postal Service. "There are no plans for that."
Currently, the Unalaska post office is open for package pick-up on weekdays from noon until 4 p.m. Counter service also reopened recently so patrons can buy stamps.
But the branch has experienced inconsistent service since last summer.
First, the post office lost Saturday service. Then, package and counter hours were reduced. There were even some days when the post office didn't open.
Mayor Frank Kelty said that's a fraction of the service available at the island's other post office.
"On the Dutch Harbor side, they have six days a week service, they have four hours' service on Saturday, and they have three to four employees on that side," he said.
Kelty said he's received complaints from many community members, and he's shared their feedback with the Postal Service.
"What bothers me is that the majority of residential customers, the school, the clinic, and City Hall are all on the Unalaska side," he said. "I think that should be given some extra weight."
But Peppinger said the Unalaska branch has fewer hours because it gets less traffic.
"There's more revenue going through the Dutch Harbor post office," she said. "That makes sense when you look at where it's located. It's in the business area. You've got the store right next door. You've got the airport right next door. And so the Postal Service wants to support where the need is."
Still, Peppinger said the organization is working to hire more staff for Unalaska. A new candidate is already moving through the hiring process, and the Postal Service is hoping to fill another clerk position as well.
Asked why it's taken so long to hire, she said it's hard to attract good candidates to Unalaska, in part because of the remoteness, cost of living, and limited housing options. Once someone is hired, she said it'll take a few weeks of training before they're ready to start work.
At this point, there is no timeline for when the Unalaska post office will return to regular hours.