The community of Unalaska is a busy place to live. Our community calendar is full of events and activities. About Town is your source for coverage of community events and sports. KUCB staff writes many of the stories, but we also accept contributions from community members for this section of our website. If you'd like to submit a story to About Town, send it to info@kucb.org.
Swimmers Blow Old Records Out of the Water at the UCSD Community Swim Meet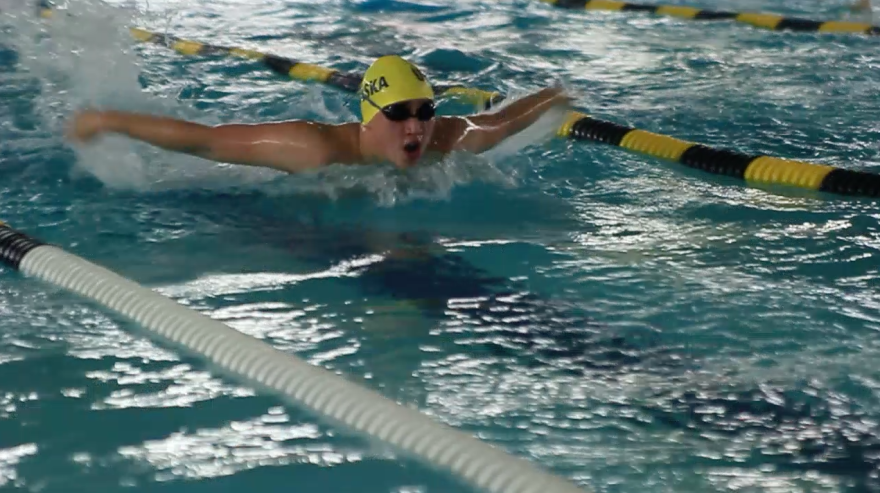 Raider supporters lined the perimeter of the pool last Friday for the UCSD Community Swim Meet at the Aquatic Center starting at 6pm. Fifteen high school students and eight Jr. High students were there to participate.
The meet began by recognizing the three senior students on the team including Ethan Izler, Amiel Fernandez and Kiara Villamor. The students accepted hugs from Coach Erin Reinders and flowers from their teammates.
After the recognition, the Raiders dove into the water and performed a team chant, followed by a choreographed call-and-response "stroke cheer" delivered from the underclassmen to the seniors.
Friends and family cheered from the sidelines while the UCSD students gathered in the upper part of the water slide.
But community participation didn't stop with sideline cheerleading – six community members actually challenged the Raiders Swim Team from in the pool. According to Coach Reinders, there were four representatives from the City of Unalaska, including a few directors and the Assistant City Manager, one UCSD teacher and one student who is not currently on the swim team.
Reinders said, "It was great to see the support for the team from the community on the sidelines and in the water!" She also noted that the entire volleyball team came out to support the swimmers. "The energy was amazing," Reinders added.
Additionally, Reinders was very impressed with the Raiders aquatic performance that evening, including 25 new personal best times and three school records. Adam Nguyen beat the UCSD record for the the 200-meter freestyle and the 100-meter butterfly, and Kiara Villamor beat the school's record for the 100-meter backstroke.
Check out a video from the meet below!
https://youtu.be/hxtJVk8uhiU" style="margin: 0px; padding: 0px; border: 0px; font-size: 11px; background-image: initial; background-position: initial; background-size: initial; background-repeat: initial; background-attachment: initial; background-origin: initial; background-clip: initial; color: rgb(22, 122, 198); cursor: pointer; font-family: "YouTube Noto", Roboto, arial, sans-serif;" target="_blank">https://www.youtube.com/watch?v=hxtJVk8uhiU&feature=youtu.be