The KUCB Newsroom provides newscasts Monday through Thursday at noon and 5 PM on KUCB Radio. You can find many of our local news stories here.
PenAir's New Planes Earn 90% Completion Rate, Despite Mechanical Hiccups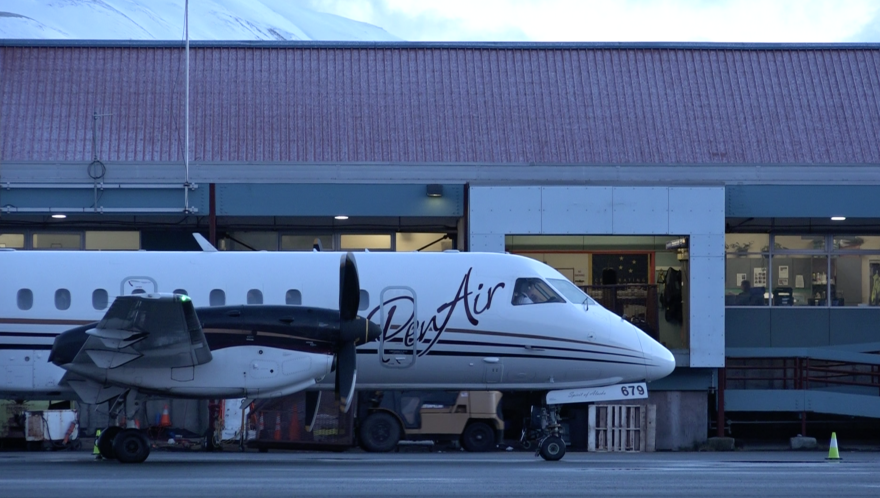 In June, PenAir introduced a new type of aircraft to Unalaska, aiming to solve a longtime problem: Manufacturers don't really make planes for this type of island.
Nine months later, the airline thinks it's finally found the answer in the Saab 2000.
The high-speed turboprop has earned a 90 percent completion rate for flights between Unalaska and Anchorage.
"There is no perfect airplane for Unalaska, unfortunately," said PenAir CEO Danny Seybert. "But this airplane comes closest to being able to do the job correctly."
Danny Seybert has been with the company nearly 40 years, and he said the island's short runway and far-flung location have always made it hard to pick an aircraft for Unalaska.
On top of that, he said most planes are designed for the average American flight, where 60 percent of passengers are men, 40 percent are women, and each person is carrying about 30 pounds of baggage.
For flights to and from the island, that's just never been the case.
"Our mix of passengers is more like 75 percent male and 25 percent female, which means there's more weight in the cabin than the plane was designed for," said Seybert. "Our average passenger carries almost 90 pounds of baggage."
The Saab 2000 makes up for those oddities of island travel, according to Seybert. It was built to fly a 700-mile route without stopping for fuel, unlike the smaller Saab 340 it's replacing. It also holds about 20 more passengers, fits more cargo, and shaves 45 minutes off the journey.
The four planes in PenAir's new fleet were originally used to fly NASCAR teams. They're actually making history as the first 2000s to carry passengers in the United States.
So far, Seybert said most PenAir customers have been happy with the $27 million upgrade.
"I've been hearing nothing but good things," he said. "People like the speed."
Kaye Gumera is one of Unalaska's more frequent fliers. She's a high school senior who's already achieved airline MVP Gold status, traveling often for sports and other school activities.
"The old planes were really loud and smaller," she said. "The new ones seem roomier and not as loud."
But Gumera also has concerns. Several of her flights have been canceled -- not just for weather, but mechanical problems.
"On a volleyball trip, we were canceled for three nights," she said. "Two or three nights in a row, we were canceled because of mechanical issues."
PenAir acknowledges the problem. Seybert said planes have been grounded for days by failed power units and overheated batteries, forcing passengers to wait while mechanics scramble for parts. He said it was especially tough early on.
"When we first started flying these last June, we were only at an 82 or 83 percent completion rate," he said.
As airline employees have gotten more familiar with the new planes, that rate has steadily risen. Seybert said it'll climb even higher when another Saab 2000 joins the fleet this spring.
"When I get my fifth airplane, I expect we're going to go back up to around a 95 percent completion rate with the majority of cancelations due to weather," he said.
The new fleet serves passengers to Unalaska, King Salmon, and Dillingham. When the fifth plane is ready, Seybert said the 2000s will start flying to Cold Bay and Sand Point as well.
The planes are expected to last for 25 years in the regional market.